We recently shared a
link on Facebook
about the discovery of an abandoned Parisian apartment that was "a time capsule, full of treasures." Lolo and I were enamored with the story and the beautiful antiques and art perfectly preserved so many years later. Seems like we weren't the only ones! The story has been circulating since 2010, but it's so enchanting and mysterious that we decided to dig a little deeper to find out more about the elusive Madame de Florian and her colorful grandmother, Marthe de Florian, an upscale courtesan and actress.
The dusty details reveal a love story, a romance that took place during La Belle Époque in
the
midst of Paris's debauchery-filled nightlife scene. A romance that would've remained secret if not for
Monsieur Olivier Choppin-Janvry, an auctioneer commissioned to inventory the possessions of a
decadent flat in the ninth arrondissement, on the Right Bank, near the cabarets and red light district.
A flat that had been untouched for nearly 70 years after its owner fled Paris for the
South of France before the outbreak of World War II, never to return again.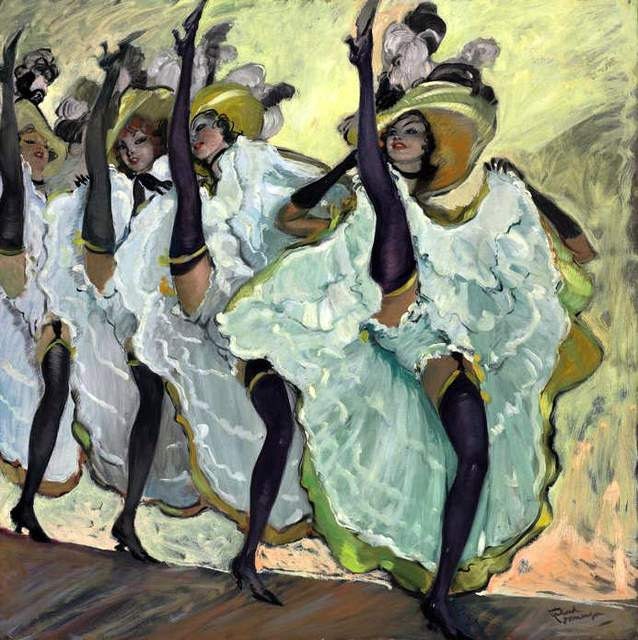 "The Can-Can", c 1900, Folies Bergere, Moulin Rouge

Madame de Florian was only 23 years old when she deserted the fabulous flat she had
inherited from her grandmother. She continued to pay rent until her death at age 91 in 2010.
The flat, near the Trinité church in Paris, remained undisturbed under lock and key until
experts entered it for the first time since de Florian's sudden flight in 1942.

While auction houses are regularly commissioned to inventory the contents of
a decedent's estate,I'm sure Monsieur Choppin-Janvry had no idea of the treasures
inside or the secret he wasabout to unlock. Behind the door, under a thick layer
of dust, lay a wonderfully preserved très chic Parisian apartment filled with beautiful
antiques and artwork. Monsieur Choppin-Janvry spoke of the moment he made the
discovery and "the smell of old dust." One expert described entering the untouched,
cobweb-filled flat like stumbling into the castle of Sleeping Beauty, where time
had stood still since 1900...when Marthe de Florian herself had occupied
the now famous flat.
Taxidermy in one's home was a sign of affluence.
Source: The Telegraph

As Choppin-Janvry began to make his way through the flat, walking over aubusson
carpets and under high,
wood beam ceilings, he passed an old wood stove and
stone sink in the kitchen, a stuffed ostrich alongside Mickey Mouse and Porky Pig,
Then monsieur's heart skipped a beat as he caught sight of a painting. A
portrait of a woman in a pale pink muslin dress stood out among the
luxurious but dusty furnishings and mountains of ephemera.
Portrait of Marthe de Florian by Giovani Boldini
Monsieur had a hunch the painting may have been painted by
Giovanni Boldini,
one of the most famous portrait artists in 19th century Paris. Known as the "master of swish" because of his flowing style of painting, everyone who was anyone HAD to have their portrait (or their wife's portrait) painted by Boldini. Yet, no record of this painting existed. No reference book mentioned the painting and it was never exhibited, said Marc Ottavi, the art specialist Monsieur consulted about the work. But monsieur's suspicions remained.
Italian Artist Giovanni Boldini
Marthe was quite the "it" girl in her day...not your ordinary hooker. The era had its common prostitutes or submissive whores, the
filles soumises
. Above them were
les grisettes
, usually working women, dressmakers and such, who used sex to supplement their incomes (like Fantine in
Les Miserables
). The next level up were
les lorettes,
respectable mistresses that fell between upper class courtesans and lower class streetwalkers. And then there were
les demimondaines
, like Marthe, a very singular breed. Demimondaines were known for their extravagant lifestyles, provided of course by a string of wealthy and well-known lovers. Their clothing was envied by every woman in Paris. Even the wealthiest high society matrons could not compete. For they only had one "husband" supplying the goods. Demimondaines were also renowned for drinking, drugs, gambling and outrageous spending, mostly on clothing. Despite their status, they remained forever on the outside.
Ahhh...this explained the fine furnishings and the lavish lifestyle Marthe had lived, and the reason she hosted so many admirers in her Paris flat. Monsieur and his team discovered calling cards that she had stashed in drawers throughout the flat. Among them were statesmen of the period and the 72nd Prime Minister of France, George Clemenceau. It was also discovered that she had stacks of love letters from her many lovers tied in little packages with ribbons of different colors. Was it possible that the dapper, talented and charismatic "master of swish," lover of the women he painted, had called on Marthe de Florian? Indeed, he had! Monsieur Choppin-Janvry found a visiting card from Boldini with a scribbled love note and knew he had struck gold. He had the link he needed. It was clear she was his muse, his lover and the beauty in the painting. A reference found in Boldini's widow's records confirmed the identity of the portrait's subject, dating it to 1898, when de Florian was just 24 years old.
Louis XVI Style Chairs Inside Marthe de Florian's Paris Flat
Source: The Telegraph
Louis XV Style Bergere and Beautiful Triptych Mirror
Source: The Telegraph
The painting is the only object that has been sold from the estate so far. It went up for auction and quickly reached €2.1 million, the highest selling Boldini work of all time.
Gwyneth Paltrow Depicting Marthe de Florian
Source
As I said earlier, Lolo and I are definitely not the only ones enamored with this
tale of two madames. Gwyneth Paltrow paid tribute to the painting and Marthe de Florian
in a photo shoot. Many have suggested it's a
hoax
? What do you think? The apartment remains in the hands of the de Florian estate, keeping the mystery of these two madames behind closed doors.
Á Bientôt!

Lolo & Mimi